Laser Dentistry & Oral Health
Lasers have made dentistry easier and more painless than it has ever been. There are a number of advantages associated with laser dentistry, some of which include:
FAST HEALING TIMES
One of the great things about laser dentistry is that it causes much less pain and discomfort than using traditional tools. Because of this, patients who undergo laser dentistry procedures generally heal faster than patients who undergo traditional procedures.
In fact, some patients don't feel any pain or discomfort at all after undergoing procedures using laser dentistry.
REDUCED INFECTION RISK
When traditional metal dental tools are used during procedures, they often cause abrasions in the gums, allowing for infections to occur. Lasers do not do this.
Instead, lasers work to sterilize the area upon which they are focused, eliminating the majority of bacteria in that area. The result? A substantially reduced risk of infection.
LESS DISCOMFORT
As noted above, laser dentistry is generally less painful than traditional dentistry. In many cases, it can completely eliminate the need for anesthetic.
What Conditions Can Be Treated With This Procedure?
Though laser dentistry can't be used in all dental procedures, it can still be used in a great many of them. It can generally be used if you're experiencing the following:
TOOTH DECAY
If your tooth has a great deal of decay, your dentist can use lasers to hollow out the tooth, ridding it of all decayed matter. This procedure is often used prior to standard cavity fillings, helping to make the process as efficient as possible.
GUM DISEASE
If you suffer from gum disease, laser dentistry can be hugely beneficial to you. Often times, lasers will be used to remove bacteria from the gums, shaping them, and readying them for root canal procedures.
TOOTH YELLOWING
Do you deal with brown or yellowing teeth? Are you looking to whiten them as much as possible? This procedure can help.
Lasers are often used during in-office teeth whitening procedures, working to speed up the overall process. Generally, they are used to activate the peroxide substance which is applied to your teeth.
When Can't Lasers Be Used for Dentistry?
Unfortunately, laser dentistry is not always a treatment option. Sometimes, the traditional dental tools are needed.
For instance, if you're trying to remove an existing filling, lasers can't help. Likewise, if you're having cavities filled between teeth, lasers will not be used. Having large crowns removed? Again, lasers will not be able to do anything for you.
Often times, this type of treatment will be used as a supplement to traditional dentistry, helping to speed up the process and reduce some of the potential pain which may be associated with it.
Laser Dentistry in North Macedonia:
Laser Dentistry has revolutionized oral healthcare in North Macedonia, offering a cutting-edge approach to dental treatments. Dental Clinics in North Macedonia have embraced this innovative technology, which utilizes focused light beams to perform a wide range of dental procedures with precision and minimal discomfort. Laser Dentistry has transformed the patient experience by reducing the need for traditional drills and anesthesia, resulting in quicker and virtually painless treatments. This advanced technique is particularly beneficial for gum disease treatment, cavity preparation, and even teeth whitening, ensuring optimal oral health and a beautiful smile. The precision of laser dentistry minimizes damage to surrounding tissues, leading to faster healing times and reduced post-operative discomfort. Moreover, the reduced risk of infection and bleeding makes it a safe option for patients with various dental concerns. Dental Clinics in North Macedonia are at the forefront of providing state-of-the-art laser dentistry services, emphasizing a commitment to patient comfort, oral health, and overall well-being. Discover the future of dentistry with Laser Dentistry in North Macedonia, where cutting-edge technology meets exceptional dental care.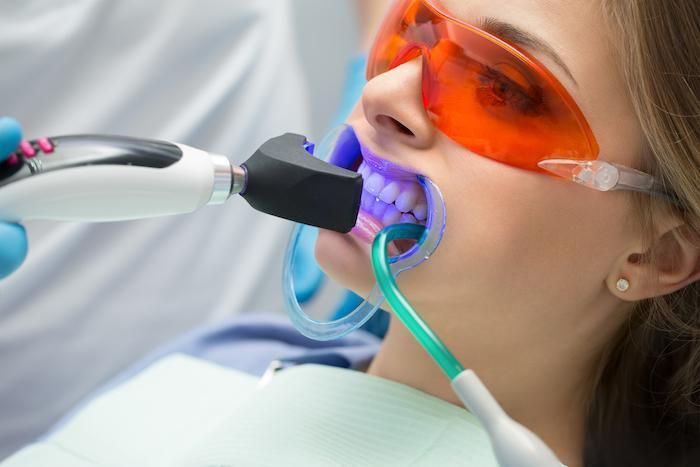 Laser Dentistry & Oral Health SERVICES
Gum bleaching
Gummy Smile
Teeth cleaning
Teeth whitening